Finding help, hope and joy in Minnesota
Having one child with a rare disease is challenging enough. Brooke and Mich Thomas have three.
But, then, they might have something even rarer: People who can't help but rally around such an upbeat family.
Include Dr. Paul Orchard, a pediatrician and professor at the University of Minnesota Medical School, as a fan.
He did the critical bone marrow transplants on Zach, 12, Amelia, 10, and Luke, 5, and continues to coordinate the team of U of M specialists who provide ongoing care for them.
Says a grateful Brooke: "We do nothing without running it by him." Adds Dr. Orchard, "I just love hearing the kids' ideas about what they want do with their future."
You have to advocate for your kids
February 28 is Rare Disease Day, an effort to direct our attention to the needs of so many families like the Thomases.
There are an estimated 7,000 rare diseases and counting. They impact as many as 30 million people in our country alone.
These families need resources, research, advocacy, awareness and, above all, places like M Health Fairview Masonic Children's Hospital – which is recognized as a Rare Disease Center of Excellence.
It's why the Thomases, an Alabama family, travel so far, so often, even during the darkest and coldest days of our winter.
Says Brooke: "Back home, you might have one person who's read a paragraph about your rare disease. Here, everybody's an expert."
Adds Dr. Orchard: "We're one of the largest transplant centers in the world for diseases like this."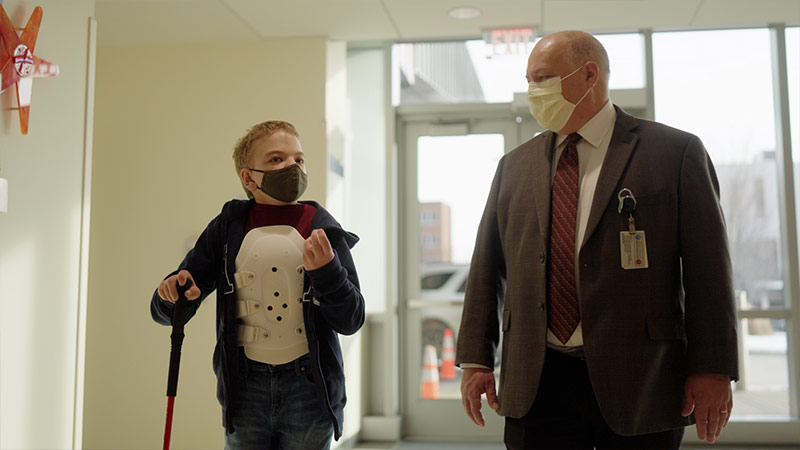 It took me a while to get there
Zach was just one when he was diagnosed with Hurler Syndrome, a genetic disease found in about one in 100,000 of us.
Children with the condition lack an enzyme to break down certain complex molecules. Without it, these complex molecules build up in the body's cells, causing progressive damage to their brain, heart and other organs. Against the odds, Zach's little sister and brother would be diagnosed with the disease, as well.
Looking back, Brooke admits that it took her a while to accept how her family's life had so drastically and suddenly changed.
But with the help of friends and family, she realized she didn't want sadness to get in the way of precious time with her kids.
She says: "Our daughter's middle name is Hope because that's what we choose for ourselves and for her and for all of our kids."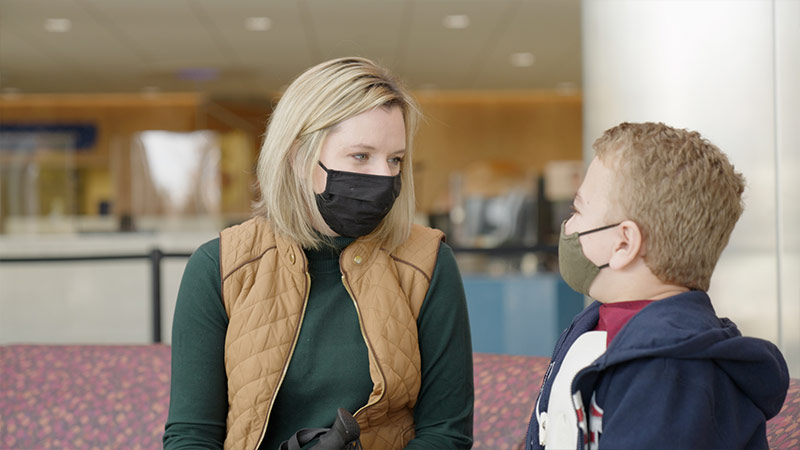 Zach plans to attend the U of M, of course
One of the promising areas of treatment, bone marrow transplant, provides the children with the missing enzyme.
Still, there is an ongoing risk of organ damage with the disease, which is why the family regularly comes back to the U for check-ups and, if needed, treatment.
Zach, for instance, has some orthopedic issues, and was just in town for a spinal fusion.
His frequent and, sometimes, lengthy visits, have made him a big fan of Ronald McDonald House, Minnesota and the U of M, including Goldy the Gopher. Says Brooke: "We're Minnesotans at heart."
They're just the best kids
While Mich is the breadwinner, Brooke is the ever-present caregiver, even home schooling all three of the kids.
The connection between them, as a result, is palpable. In Zach's presence, Brooke often pauses, to make sure he's comfortable revealing certain details about his condition.
Zach is even more protective of his mom. When she tears up ("I'm a crier"), he wriggles, and makes it clear he wants to move on to a happier topic, like his keen interest in history or basketball.
Somehow, Brooke finds time to help other families with a rare disease diagnosis. She and Zach, for instance, have lobbied policy makers for newborn screening, critical to early intervention and more effective treatment.
She especially tries to be there for families newly diagnosed, showing them, in that dark moment, that their life can be every bit as rich as hers.
In fact, it isn't so much a rare disease that dominates the Thomases' life these days. It's more that growing community of people attracted to them.
Says Brooke: "I realized that I'm here for a greater purpose. We may not be the fastest. May not be the first to finish."
But they can be advocates…and share hope.