"Yes, you can live without a pancreas."
Alex and Erin Schubert take nothing for granted when it comes to their two girls.
Not even something as simple as their passion for building snow forts in the yard.
First Maleah, their oldest, was diagnosed with hereditary chronic pancreatitis, a genetic disease that sidelined and, all too often, hospitalized her with bouts of knife-like abdominal pain.
Then, tests confirmed that her little sister Lauren, struggling with the same symptoms, had the devastating disorder, too.
Now, after both girls have recovered from a Total Pancreatectomy and Islet Auto-Transplant (TPIAT), Alex and Erin marvel at even the littlest things they can do.
"They get to be kids," says Erin. "Running and playing without having to worry about the pain they used to live with."
Adds Dr. Melena Bellin, just one, she insists, of a team of University of Minnesota physicians who cared for the girls at M Health Fairview Masonic Children's Hospital: "Part of the remarkable recovery of young children is that they don't have that memory of severe and untreated pain that adults do."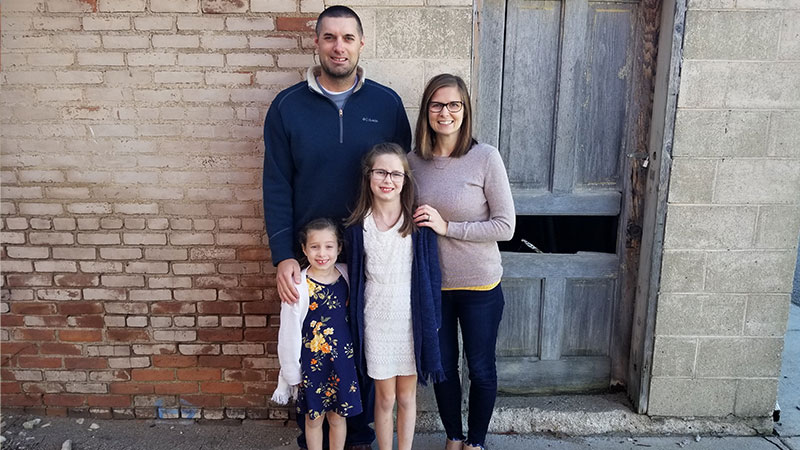 Repeated episodes that escalate over time
Chronic pancreatitis, especially in children, is so rare that it often goes undiagnosed.
It differs from acute pancreatitis in that the pain never really goes away and the inflammation causing it often leads to severe damage and even diabetes.
Alex and Erin, who live near the small town of Canby, took Maleah to specialist after specialist in a desperate effort to find answers.
Meanwhile, the episodes of nausea, vomiting, and pain that was so bad she'd hold her breath, got worse.
"The only diagnosis we ever got from other specialists was constipation," Erin says.
Dr. Bellin isn't surprised: "It's thought to be an adult condition. So it gets diagnosed as other conditions that are more common in childhood."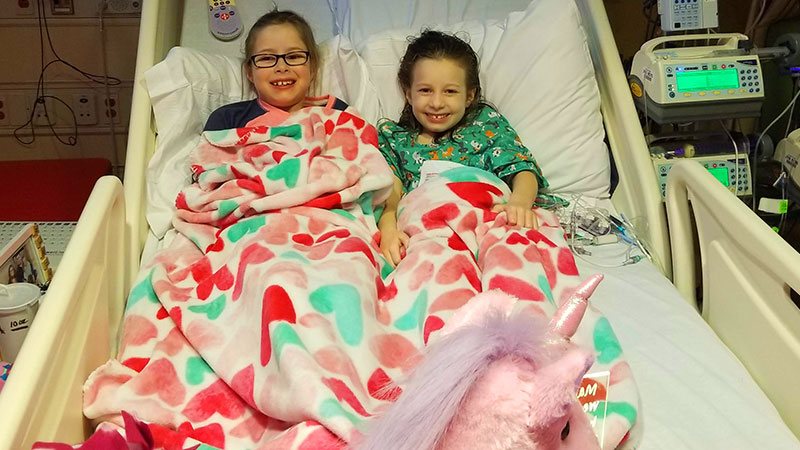 We had to look at what the future could hold for Maleah
The family's long journey, filled with sleepless nights searching the internet for answers, eventually led them to U of M— home of the world's first TPIAT procedure and largest TPIAT program.
By then, they not only had that elusive diagnosis, but a difficult decision to make: There is no medication to stop chronic pancreatitis.
TPIAT is the best hope for relieving the terrible pain and restoring an almost-normal life, but it's a major procedure, involving removal of the pancreas, harvesting islet cells from it that manage blood sugar levels and reinjecting them into the liver.
Continuing—lifelong—care includes taking medication before each meal to provide the enzymes the pancreas once produced to digest food. Also, blood sugar levels need to be monitored to make sure those precious islet cells are still doing their job.
Says Dr. Bellin: "It's a complicated procedure. I do the diabetes piece. But there's a GI piece, a pain piece, a surgery piece, an endocrine piece"—it's a list that goes on and on so she simply adds—"a huge multidisciplinary team."
Adds Erin: "Alex and I talked about the TPIAT surgery for a long time. It was a huge decision, and a hard decision, but we wanted a chance for Maleah to have a pain-free life."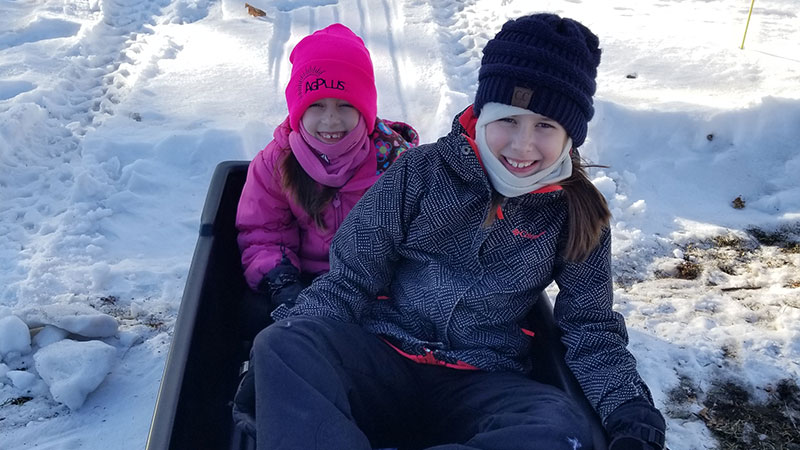 No limitations
The odds seemed long that Lauren would also end up with the disease. But, through genetic testing, they discovered that Erin carries the gene mutation.
Lauren inherited the same gene mutation and because of this, she followed in Maleah's footsteps—all the way to the TPIAT procedure.
Now the sisters' roles reversed—this time, it was a recovered Maleah who crawled into the hospital bed to comfort her sister, just as Lauren had comforted her.
Looking back, Alex and Erin say the experience pulled their family close and made them grateful to the U for such life-changing medicine.
Maleah, now 9, loves basketball, where because of her height, she plays down low, battling for rebounds. Lauren's sport is every bit as physical—gymnastics.
Says Alex: "We're just so happy to see them be able to do what they really want to do."
Adds Erin: "We appreciate things so much more."